KATECH-BUILT VEHICLES FOR SALE BY PRIVATE SELLERS
!NOTE! – The following vehicles are for sale by private individuals, not Katech. Katech does not oversee these private sale transactions and does not warranty the vehicle in any way.  Please contact the sellers of these vehicles directly if you would like more information.
If you own a Katech car and would like your vehicle listed here. Please email your ad, pictures, links, and contact information to jason@katechengines.com
2006 Katech Track Attack Corvette Z06 SN#00
Mileage: 23,000
Location: Michigan
Price: $69,000
Email: jason@katechengines.com
For full details and tons of photos, please view the Corvette Forum for sale thread: http://forums.corvetteforum.com/c6-corvettes-for-sale/3162762-fs-jasons-2006-katech-track-attack-z06-sn-00-650hp-2850lbs.html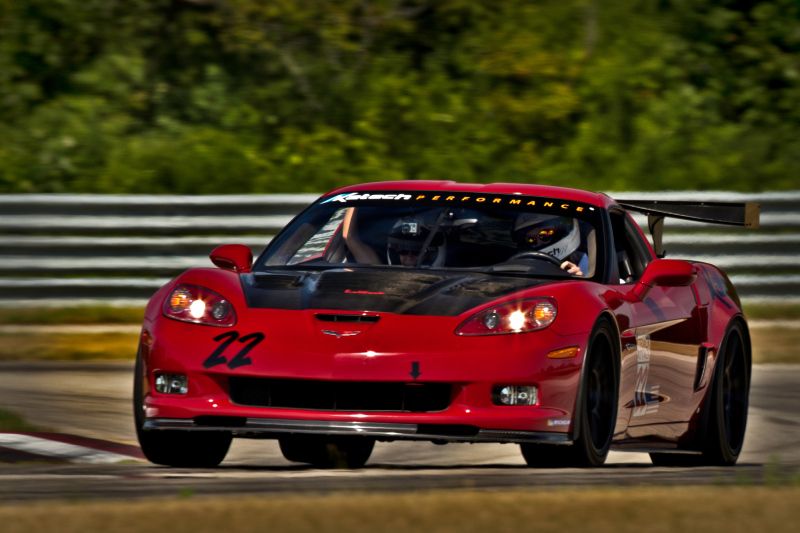 Stats:
2006 Corvette Z06 with Katech Track Attack package
23,000 miles (stored winters)
20,000 miles since engine build
1LZ package (no heated seats, memory seats/mirrors)
Victory Red exterior
Ebody/red interior
No nav
Exellent condition, not a scratch
12.0:1 CR
18-20mpg city / 25mpg hwy on E10, ~13-15mpg on E85
35% front window tint, 5% rear
Not heavily raced but has seen about 10 days on the road course. These days I'm usually running an event or talking to customers so I only get a few sessions in. I would estimate about 8-10 track hours on the engine.
The car is currently tuned for E85 but I could tune it for 93 octane if the buyer desires.
Horsepower: 650hp/569rwhp
Torque: 585tq/537rwtq
Weight: 2850lbs (dry)
1/4 mile: 11.3 @ 132mph with no traction (60ft times over 2.0 seconds)
Serial number #00 (reserved for Katech show cars)
Autographed by Corvette Racing drivers (in center console):
Ron Fellows
Johnny O'Connell
Max Papis
Modifications:
Engine/Exhaust/Cooling:
Katech Track Attack LS7 (actually more of a Street Attack/Track Attack spec hybrid due to cam/compression choices)
-Katech forged pistons, 2618 material
-DLC coated piston pins
-Rebushed small end of connecting rod with solid bronze bushing
-Clevite rod bearings
-Federal Mogul main bearings
-Katech Torquer LS7 camshaft (220/244 @ .050, .615/.648″, 110LSA), very civil for street driving
-C5-R timing chain
-GM Racing high speed lifters
-PSI Single beehive springs (refreshed at 17,000 miles)
-Katech titanium valve spring retainers
-WCCH Ported cylinder heads
-160 degree thermostat
-FAST LSXR 102mm intake manifold, show prepped and painted red
-FAST 65lb/hr injectors
-Katech black billet fuel rails and AN lines
-Nick Williams 102mm throttle body (1st gen)
-Katech carbon fiber valve covers
-Katech coil relocation kit
-MSD Spark plug wires, black, spark plug boot insulators
-Katech billet belt tensioner, red
-ARE Stage 3 dry sump system (Pan, tank, and secondary scavenge pump)
-ATI damper (10%UD)
Halltech CF112 carbon fiber air intake system
Halltech SuperBeehive shroud with mounts for Moton canisters
Kooks 1 7/8″ headers, jet hot ceramic coated
Koolmat tunnel heat shield, plus gold foil in the tunnel
Kooks X-pipe
Corsa black diamond exhaust system, quad tip (newer – installed this year)
Dewitts radiator with integrated oil cooler, -10AN coil cooler lines
Drivetrain:
Exedy GT04XD twin disk clutch (about a year old or 3000 miles)
Katech remote clutch bleeder
2008 axle shafts
Brakes:
ZR1 carbon
-6 piston front calipers, refinished red with Brembo logo
-15.5″ 2-piece carbon fiber front rotors
-4 piston rear calipers, refinished red with Brembo logo
-15″ 2-piece carbon fiber rear rotors
-Carbotech XP10 front pads, ZR1 OEM rear pads
-Braided brake lines
-Stealth Titanium brake caliper mounting bolts
Spindle ducts and brake cooler hose
AP600 brake fluid
Suspension/steering:
Moton Clubsport double-adjustable, remote canister coil-overs
Eibach springs
Bump steer kit with heim joints
Pfadt competition sway bars
Aligned to street specs
Wheels/Tires:
OZ Ultraleggera 19×10 & 20×12
Michelin Pilot Sport Cup Tires 285/30ZR19 & 335/25R20
ARP wheel studs
Open lugs
Interior:
Caravaggio D-bottom steering wheel, black perforated leather, red stitching
Caravaggio shifter knob and boot, black perforated leather, red stitching
Caravaggio parking brake knob and boot, black perforated leather, red stitching
Caravaggio center console lid, black leather, red stitching
Painted black center console
Painted black cluster pods
Painted black steering wheel spokes
Alcantara headliner
Alcantara visors
Alcantara a-pillars
Body:
AC Products World Challenge louvered hood in one-off exposed carbon fiber (not flawless)
Bottom of hood painted Victory Red
Stock hood also available
Katech carbon fiber front splitter with undertray and brake ducts
Katech front fascia reinforcement
Katech carbon fiber side skirts
Pratt & Miller Corvette GT2 wing that was actually used in ALMS and crashed(repaired and purchased for charity from P&M)
AC Products World Challenge wing mounting brackets
Katech carbon fiber decklid (race carbon) with lexan rear window
Lexan windshield with removable center brace (stock windshield also available)
Lexan full power side windows (stock windows also available)
Graphics on the side of the car are vinyl and easily removed
Halltech carbon fiber NACA duct
Misc.
Shorai lithium ion battery
Pfadt front tow hook
Other weight reduction:
AC deleted (have old parts)
HVAC deleted (have old parts)
Rear carpet deleted (have old parts)
Wipers deleted (have old parts)
Washer deleted (have old parts)
Stealth Titanium starter bolts
Stealth Titanium alternator bolts
Full disclosure, flaws:
Front carpet has shrunk due to floor heat when idling for hours at the Woodward Dream Cruise. It's coming away from the
center console. Will replace front carpet if the right deal is reached.
Tires have about 3000 miles on them and about 9 track sessions.
Left engine mount went bad and leaked fluid. I will replace for the buyer before delivery.
Located in southeast Michigan
2006 Katech Street Attack Corvette Z06
Mileage: 13,000
Location: Arkansas
Asking Price: $65,000
Phone: 501.920.5576
Email: epermenter@classicnet.net
 Engine and Exhaust

Katech Street Attack LS7 Package
610 hp
570 ft-lb
11.4:1 compression ratio
Halltech Killer Bee Intake
Ron Davis Custom Aluminum Radiator
Integrated oil-to-water cooler
AN oil cooler lines
Koolmat Tunnel heat shield
Kooks ceramic coated long tube headers with high-flow cats
Corsa X pipe
Corsa Z06 exhaust system

Transmission

RPM Transmissions Stage V Build
Micropolish
Cryo-treatment
Solid keys
Bronze fork pads
Steel 3-4 shifter fork
RPM modified 1-2 shifter fork
Hand-fit sliders and hubs
Differential Micropolish
Differential Cryo-treatment
300M output shafts
Exedy twin disk clutch

Brakes

High performance AP 600 degree brake fluid
Stainless braided brake lines

Suspension

Moton Clubsport adjustable coil-overs
Eibach springs
Pfadt competition sway bars
Pfadt solid bushings
Pfadt pillow blocks
Pfadt camber kit

Interior

Caravaggio hand-stitched steering wheel
Caravaggio hand-stitched parking brake boot
Caravaggio hand-stitched shift boot and shift knob
Caravaggio hand-stitched center console lid

Aero / Body

Katech carbon fiber front splitter
Katech carbon fiber undertray and brake ducts
Katech front fascia reinforcement
Katech carbon fiber rear spoiler

Wheels / Tires
Audio

Kenwood DVD Head Unit with iPOD controller
JL Audio ZR Component Audio Speakers
JL Audio Custom-fit Sub enclosure
Kicker 1x500w mono block amp for the sub
Kicker 4x150w component amp
Dynamat extreme installed in doors and rear compartment
 2001 Corvette Z06 383ci Supercharged
Mileage: 10,500
Location: MI
Asking price: $38,000
Phone: 734.664.6935
Over 600 HP
Over $100k invested in this amazing car!
Engine components:

Pro Charger Supercharger
LS7 clutch/flywheel
Katech stage II CNC ported heads
Remote clutch fluid bleeder
Katech CNC ported throttle body
Katech valve covers, inserts, and coil brackets
Cola crankshaft
ATI dampner
Custom camshaft
Magnaflow X-pipe
Callies Compstar connecting rods
Corsa Pro Indy Exhaust
Mahle pistons, pins, rings
Carbon Fiber Vortex Power Duct
C5-R timing chain
Breathless Performance Power Tube
High lift springs
64 lb/hr injectors
Titanium retainers
Katech fuel system
Breathless Performance Custom Long Tube Headers
**Note: (all balanced, blueprinted, and assembled by Katech with receipts)

 Body/Chassis components:

19" HRE 540R 3-piece Wheels (front) 20" HRE 540R 3-piece Wheels (rear)
Baer Eradispeed 2-piece brake rotors (front/rear)
ACI rear wing
Pfadt Engineering coil-overs (fully adjustable)
APC C5 magna-extractor hood
2010 Camaro SS/RS Head/Cam package
Mileage: 3,800
Location: MI
Asking price: $38,500
Phone:  586-709-2310
Katech Torquer LS3 camshaft
PSI single beehive springs
Katech titanium retainers
Katech C5-R timing chain
Trend pushrods
WCCH ported LS3 heads
Kooks 1 7/8 Jet hot coated headers with high flow cats
Corsa Exhaust
Halltech Yellow Jacket Camaro intake system, painted black with red lettering
Katech aluminum valve covers powdercoated black
Katech coil relocation kit
Katech billet belt tensioner
Katech heater hose relocation kit
Katech fuel line
Katech evap line
BMR Trailing arms
Gen 5 SN:01
 2006 Katech Street Attack Z06 SN#01
Mileage: 9,100
Location: GA
Asking price: $150,000
This car started the Katech Z06 Street Attack Legend,
A rare piece of automotive history
-featured in the December 2006 Issue of Corvette Magazine
-driven by Johnny O'Connell at Road Atlanta
"The power was completely unreal, pulling so hard at the higher revs, and the sound of the exhaust was out of this world. No doubt the fastest street vette I've ever driven."
- Johnny O'Connell, Driver #3 C6.R
2006 Corvette Z06 2LZ
Le Mans Blue exterior
Black / red interior
Polished wheels
9100 miles, Excellent Condition
ENGINE
-Race prep engine build, balance and blueprint
-608hp / 570 lb-ft
-Katech forged pistons, hardcoat anodized, 11.0:1CR
-Rebushed connecting rods
-Katech Torquer LS7 camshaft
-High lift valve springs
-Ported cylinder heads
-Dyno tested
-Katech billet belt tensioner
-Katech valve covers, color matched Le Mans blue with Katech
logo
-Katech coil relocation brackets
-color matched intake manifold, Le Mans blue
-custom painted airbox with color-fill emblem
-Halltech PowerCore filter
EXHAUST
-Kooks headers, ceramic coated
-Kooks x-pipe
-Prototype Corsa exhaust, quad tip
COOLING
-Ron Davis radiator with integrated oil cooler
-Katech oil cooler adapter and -10 lines
-Koolmat tunnel heat shield
TRANSMISSION
-RPM Transmissions Stave IV build
-South Bend DXD-f clutch
BRAKES
-Stoptech lines
-AP600 fluid
INTERIOR
-Caravaggio steering wheel
-Caravaggio parking brake boot and knob
-Caravaggio shifter boot and knob
EXTERIOR
-MTI Racing carbon front splitter